Rules and Regulations

At our cemeteries, we honor and respect all of the families who have chosen us as the final resting place for their loved ones, and we want to ensure that our grounds remain a sacred place of beauty, reflection, and remembrance for years to come.

To provide all families and visitors the highest quality experience, we have established Cemetery rules. Click below for the complete set of Rules and Regulations. Below this link is a summary, offered for your convenience.

Summary of Rules and Regulations
GENERAL CONDUCT
All visitors to the cemetery grounds are expected to conduct themselves in a respectful and considerate manner. This means engaging only in orderly, quiet, and courteous behaviors and appropriately using designated roadways and walkways (whether by motor vehicle or on foot). Any individual failing to observe this general rule may be refused entry or asked to leave.

SPECIFICALLY PROHIBITED CONDUCT
In order to preserve and enhance the visitor experience, we do not allow certain behaviors on park grounds. If you observe anyone engaging in the following behaviors, please alert a staff person:

Smoking in prohibited areas
Dumping of trash
Having pets which are not under appropriate control
Inappropriately supervised minors
Collecting flowers or plants; hunting or fishing
Swimming, skating, or sledding
Using park grounds for advertising or solicitation
Possessing firearms
Possessing or using illegal substances
Blocking access to graves or other park locations
FUNERALS
While special circumstances may sometimes exist, funeral arrangements generally should be made at least 24 hours in advance of the desired time for services (and at least 48 hours during inclement weather). If less than 24 hours is being provided (due to religious considerations, for example), please work with Cemetery staff to see if exceptions are possible. Please be mindful that funeral services may be restricted on certain days of the week, times of the day, during certain weather-related events, and on holidays. Upon request, Cemetery staff may provide more detailed information to you.

Once a funeral procession arrives on Cemetery grounds, the individual in charge of the funeral services (whether a funeral director or otherwise) shall present the required permitting documents and remains to Cemetery staff, who then shall supervise interment of the presented remains.

INTERMENTS, ENTOMBMENTS & INURNMENTS
Enclosed in this packet is the Contract that outlines the terms of the agreement with the Cemetery. All rights granted in the Contract (which are not property rights) belong to the "Owner." If these rights later are shared, transferred, sold, or otherwise granted or designated to another person, please notify Cemetery staff so that they may update park records. Failure to do so may result in complications or delays when services are requested.

Once requested in writing and in person by an Owner or the Owner's appropriate designee, only Cemetery staff or an approved and qualified Burial Service Contractor may open Cemetery spaces for interments, entombments, or inurnments, lower bodies into gravesites, or fill graves. Please check with Cemetery staff for a detailed list of information required to commence interments, entombments, or inurnments, as well as the required specifications for burial containers or containers used for cremated remains. Cemetery staff have full discretion to accept or deny proposed plans by third parties.

Please note that cremated remains must be received in an acceptable urn or other container on the scheduled date of service, together with proper permitting documents. The Cemetery cannot store cremated remains in advance of the scheduled service and cannot transfer cremated remains from one container to another.

Interments may require temporary displacement of existing memorials and foundations, depending on site configuration and conditions.

PARK MAINTENANCE, MEMORIAL BEAUTIFICATION & FLOWERS
We take great pride in our serene and reflective Cemetery grounds, which are maintained by Cemetery staff, including plantings, landscaping, grading, and other improvements throughout the park. We call this "perpetual care," and it is funded to the extent of the perpetual care trust, as explained in the Contract. Cemetery staff may remove weeds, flowers, trees, shrubs, or other plants if they become unsightly, diseased, otherwise negatively impact the grounds, or if their removal is deemed necessary.
With regard to beautification of specific memorial sites, and in order to ensure that the grounds honor and beautify the resting place for all loved ones, we have created the following guidelines:

Unless previously approved, no plantings, fencing, mulching, or placement of stone is allowed
Memorials should remain free of photographs, toys, ornaments, chairs, breakable items, and other objects that may interfere with groundskeeping
Vases are permitted if they are of approved material set either in a permanent foundation or in a separate granite or concrete base
All memorial adornments, urns, affixed cameos, and inscriptions must be approved by Cemetery staff
Bronze memorials are subject to rules laid out in the more detailed rules and regulations (please ask staff for a copy)
Decorations should be checked periodically to ensure that they have not become faded, damaged, or deteriorated
Please check with Cemetery staff for winter grave decoration guidance
Application of fertilizers or other chemicals on Cemetery grounds is not permitted
Improvements that do not adhere to these guidelines and staff instructions shall be removed or modified by Cemetery staff at the plot owner's expense.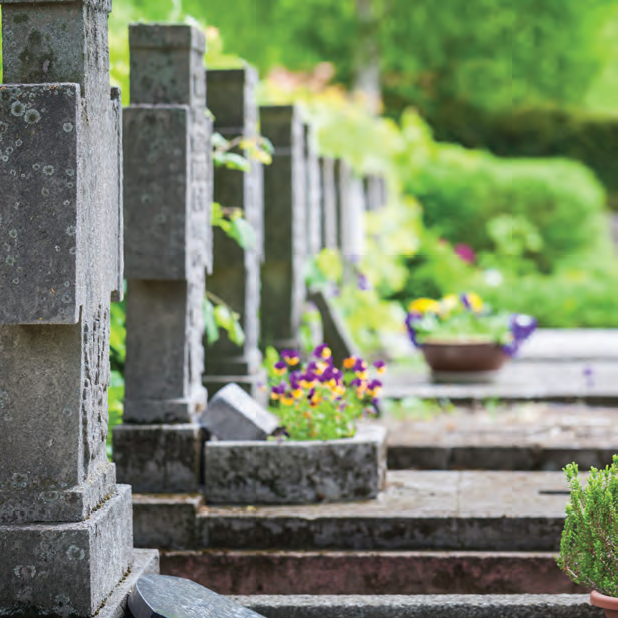 Please note that fresh or artificial flowers (in a naturally occurring color palette) can be a wonderful way to honor a loved one at an outdoor memorial. If you add flowers to a memorial, please note that they must be placed in an approved vase (glass and ceramic vases are not allowed as they may easily break). If the flowers are fresh-cut, you may choose to either remove flowers before they become uninviting or unsightly, or allow Cemetery staff to do so. For indoor memorials, please use only artificial arrangements of a natural hue.
Cemetery staff shall perform park-wide cleanups twice per year (generally in March and November, but please check with staff for precise dates, as each park may differ).
Please refrain from adding new beautification items during this time and remove any desired items in advance.

MEMORIAL INSTALLATION & MAINTENANCE
All memorials and mausoleums (and foundations) shall be purchased from and installed by either the Cemetery or an approved and qualified Memorial Service Contractor, based on written instructions and sketches provided by the owner and approved by the Cemetery. Should requested memorials or mausoleums not align with Cemetery standards (due to size, thickness, design, or suitability), Cemetery staff shall work with the owner and Memorial Dealer to adjust the design. Cemetery staff must approve all memorials and mausoleums, including those supplied by an outside vendor.

Memorials remain the property of the purchaser. While the Cemetery retains rights of ingress and egress throughout Cemetery grounds, it does not ever own memorials or insure them. Cemetery grounds may limit locations for upright memorials, bronze memorials, or other types.
Should any memorial or mausoleum become damaged or in disrepair for any reason, Cemetery staff shall notify the plot owner, who should direct repairs as soon as practicable. If the plot owner chooses to not make needed repairs, Cemetery staff may arrange for repairs at the owner's expense.

ALTERATIONS & CORRECTIVE ACTIONS
In order to preserve and enhance the serene and peaceful nature of the Cemetery and also expand its offerings, we may from time to time alter Cemetery borders (enlarging or diminishing), adjust roadways or walkways, add or remove features, buildings, or landscaping, or add or eliminate sprinkler systems, drainage systems, communication lines, and the like. These and similar actions may require Cemetery staff and vendors to travel (perhaps with equipment) over or near exiting plots, graves, crypts, or other memorials, and nothing in this document or the Contract interferes with or diminishes the Cemetery's right of ingress and egress. We of course will take necessary precautions when engaging in any such actions and will endeavor to keep disruption to a minimum when possible.

Further, while Cemetery staff take great care in performance of their obligations, if errors of consequence are discovered - whether in interments, disinterments, burial containers, memorial inscriptions, memorial placement, or sale of interment services or spaces - that ether require your input to correct or are required to be communicated under applicable law, staff will contact you. Any corrective actions shall be within the Cemetery's sole discretion. If you discover any such errors, please alert Cemetery staff right away.

SUMMARY OF RULES & REGULATIONS
This document contains a summary of the most widely applicable rules and regulations. We understand that you may have additional questions about more specific Cemetery rules. If so, please ask Cemetery staff for the more complete set of rules and regulations. They are available upon request.

Thank you again for entrusting us with your loved one's final resting place. We hope that these guidelines will enhance your desired experience in our park and honor the legacy of your loved one.